Lemon Juicer: Do One Thing & Be The Best At It
Lemon Juicer is a new series of short posts about entrepreneurship and playing to your strengths.  They are (relatively) concise and designed to get you on the right path for turning your ideas into lemonade.
Dallas Mavericks owner Mark Cuban has written in his blog numerous times that being young means you need to keep trying to new things, taking risks, and learning.  In his opinion, trying to focus on one thing is a terrible idea.  He's absolutely right.  Now is as good a time as any for young creatives to travel the world and expand their palette of global inspiration.
When you decide to start a business or company you must take one of your deep-rooted passions and focus solely on that.  You cannot do everything.
A company that tries to do everything does everything poorly.
When you decide what you want your business to be you must set out to be the best at one very specific thing.  You need to be so good that people cannot help but rave about you and your product.
Nuts.com is a business with deep roots that started over 80 years ago "on the brink of the Depression," as the Newark Nut Company.  Grandpa Sol "believed in choosing only the highest quality super colossal nuts from the world's best growers. He would then roast the nuts to perfection for a fresh, delicious flavor."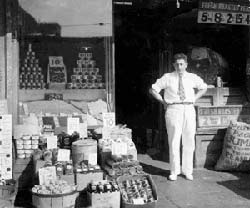 Grandpa Sol did one thing; sell dried snacks, but he did it better than anyone else.
Today, the third generation of the family faces much different competition than their grandfather did.  Now everything is delivered by mail and their customers are looking for convenience.  Amazon is the delivery giant but Nuts.com stays the best at delivering their natural snacks to most locations within 2 days.  They continue to offer the most premium product and met the shipping issues head on.
Nuts.com is best at one very specific thing and their customer's reviews reflect that.
It is your task to do the same.